Tips for Safe Online Shopping
Let's face it, there's every reason in the world to shop online. The bargains are there. The selection is mind-boggling. The shopping is secure. Shipping is fast. Even returns are pretty easy, with the right e-tailers. Shopping has never been easier or more convenient for consumers.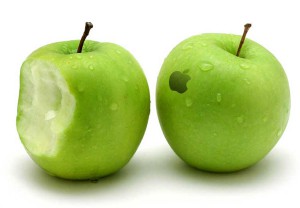 Just yesterday an Australian woman was scammed out of $1,500 when she bought two iPhones from another woman via an online buy-and-sell site—and ended up with two real apples. nvestigation showed the 21-year-old woman from Brisbane had placed an ad on online classified, she then received a call from a woman who said she was selling iPhones. Both women arranged to meet at a fast-food joint, with the victim getting two iPhone boxes.
But the scam hit home when the victim got home and opened the boxes, only to find two real apples—one in each box. Read more here
But stay calm. While somewhat alarming, you simply need some common sense and practical advice. Follow these basic guidelines and you can shop online with confidence. Here are 11 tips for staying safe online, so you can start checking off items on that holiday shopping list.
1. Use Familiar Websites
Start at a trusted site rather than shopping with a search engine. Search results can be rigged to lead you astray, especially when you drift past the first few pages of links. If you know the site, chances are it's less likely to be a rip off.
2. Look for the Lock
Never ever, ever buy anything online using your credit card from a site that doesn't have SSL (secure sockets layer) encryption installed—at the very least. Never, ever give anyone your credit card over email. Ever.
3. Don't Tell All
No online shopping store needs your social security number or your birthday to do business. The more they know, the easier it is to steal your identity.
4. Check Statements
Don't wait for your bill to come at the end of the month. Go online regularly and look at electronic statements for your credit card, debit card, and checking accounts. Make sure you don't see any fraudulent charges.
5. Inoculate Your PC
Swindlers don't just sit around waiting for you to give them data; sometimes they give you a little something extra to help things along. You need to protect against malware with regular updates to your anti-virus program.
Remember, prevent online fraud and shop online with confidence by authenticating the sites you buy from, opting out of extra "offers," and by following these smart tips.